Your Guide to Brunch in Chapel Hill
UPDATE: On June 30th Gov. Roy Cooper signed the Brunch Bill into law, allowing restaurants to begin serving mimosas and other alcoholic beverages at 10 a.m. Sundays instead of noon and it also applies to sales of alcohol in stores. On July 10th Chapel Hill Town Council officially set those mimosas free and enacted an ordinance allowing restaurants to sell alcohol starting at 10 a.m. on Sundays! Now let's get Munchin' and Brunchin'! Scroll down for Summer in Chapel Hill: Brunch Bill Edition drink specials.
Attention all brunch-lovers: This is your summer. Here's your personalized guide to a few of Chapel Hill's gems with exclusive brunch menus: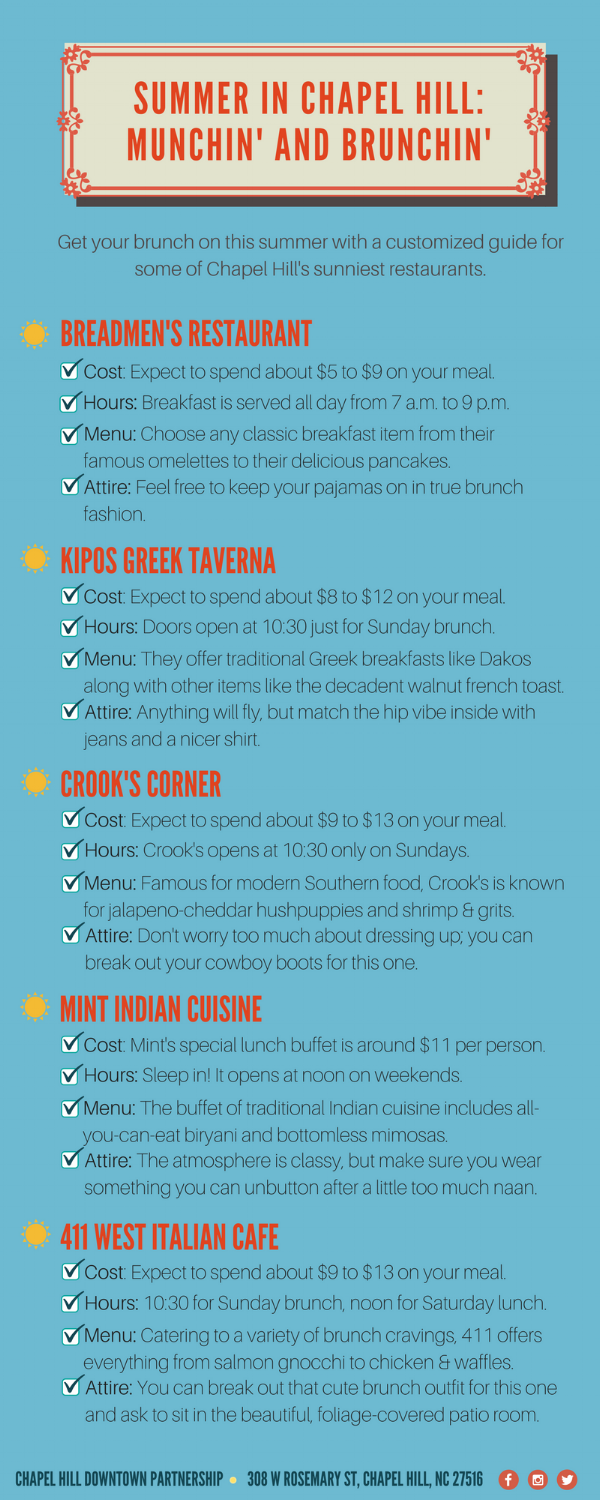 If none of those options excite you, there's always more.
Crepe Traditions
Perfect for a brunch on-the-go, Crepe Traditions employs a fast-casual type of dining. With anything from the Hawaiian Chicken crepe to the Biscoff Cookie Butter & Ice Cream option, these creative crepes are worth every bite -- with an added bonus of watching the employees make your crepe in front of you! Expect to spend around $9 on this brunch treat, open on Sundays from 8 a.m. to 2 p.m.
Carolina Coffee Shop
As Chapel Hill's oldest original restaurant, Carolina Coffee Shop has been perfecting their recipes for years. Along with your delicious latte, try their biscuits & gravy or their BBQ pork sandwich if you're in the mood for lunch! With beautiful wooden booths and a constant playlist of the best classical music, you'll be surprised to only spend around $11 for your food.
R&R Grill
This spacious brunch spot with beautiful outdoor seating for those sunny Sunday mornings is perfect for a bigger crowd! Try the mouth-watering crab cake benedict or their famous breakfast pizza, along with delicious cocktails. Expect to spend around $11 on your all-American brunch, served Sundays 10 a.m. to 2 p.m.
Roots Bakery, Bistro & Bar
Roots is every savory brunch lover's dream with a Central American twist. It has everything from huevos rancheros and fried plantains to pork & grits. Enjoy the chill atmosphere with all local, fresh ingredients and maybe even order their Tar Heel Town cocktail! Served Sundays from 9 a.m. to 4 p.m, expect to spend around $9 on your food.
Crossroads
This Sunday brunch buffet is more expensive, but the beautiful Carolina Inn atmosphere and the delicious food is worth it. Treat yourself to their homemade cheese biscuits, kale & andouille frittata, or bread pudding with creme anglaise for dessert. Their fixed brunch price is $29 for adults Sunday mornings from 11:30 a.m. to 2 p.m.
Ye Olde Waffle Shoppe
Ye Olde Waffle Shoppe is perfect for those with a sweet tooth. Their M&M or Reese's waffles and pancakes are to die for, or try their bacon and egg biscuit if you're still feeling savory. Enjoy the timeless vintage feel inside Saturdays and Sundays from 8 a.m. to 2 p.m. and expect to spend around $7-9.
UPDATE: With the passing of the Brunch Bill, maybe you're thinking a little less about food and a little more about your drink options. Don't worry — we've got you covered there too.
If you're still thinking about just staying in and grabbing cereal, you could have the best of both worlds at Top of the Hill. They're featuring their Crunchtail (Rumchata and Stoli Vanil shaken with milk and topped with Cinnamon Toast Crunch) and their Krispytail (Rumchata and Creme de Cacao shaken with milk, served over chocolate syrup and topped with Cocoa Krispies) during brunch hours.
If that doesn't make you want to enjoy brunch this Sunday in Chapel Hill, we don't know what will. The best way to celebrate the Bill is to go out and appreciate all Chapel Hill restaurants have to offer.
And remember — parking in Chapel Hill is free everywhere on Sundays! Click here to view your parking options.