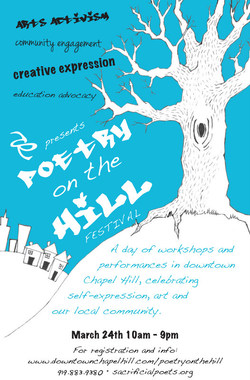 DUE TO RAIN: The open mic, bands, March Youth Slam have been moved from Wallace Plaza to STREET SCENE TEEN CENTER (179 E. Franklin Street). Street Scene is in the basement of the Courthouse/Post Office. The entrance is down the steps, facing Henderson Street. The performances are all FREE! Come join us!
Poetry on the Hill will be held on Saturday, March 24, 2012 from 10AM to 9PM in downtown Chapel Hill. Created by members of the Sacrificial Poets , the one-day festival will offer poetry and spoken word workshops and performances to participants. Workshops will take place during the day in Franklin Street businesses and organizations that are lending their space. The festival culminates on Wallace Plaza (on top of the parking deck) with an open mic and youth slam performance for festival participants – granting them the opportunity to perform using the skills they've learned that day.
The poetry festival serves two purposes; to provide the community with a meaningful cultural arts experience; as well as create a dynamic event that brings people downtown to support businesses.
The Sacrificial Poets work to inspire, foster, and promote artistic expression, personal growth, and social justice for youth in our collective communities through the use of the spoken and written word.
The Sacrificial Poets and the Downtown Partnership came together through the work of Alyssa DeCaulp – a UNC Masters student in the Department of American Studies – Folklore Program. Alyssa is both a volunteer for the Downtown Partnership and serves as a leader in the Sacrificial Poets.
Festival Details & Schedule:
Events are free and open to all, but participants must register ahead of time as space is limited in some of the workshops. To register - CLICK HERE. (www.poetryonthehill.eventbrite.com)
Time

Workshop

Venue

10AM-11:30AM

Spoken Word in the Classroom Workshop: Incorporating spoken word into your curriculum.

11:30AM-12:30PM

Lunch Break

Enjoy lunch downtown!

12:45PM-2:15PM

Arts Activism and Community Engagement Workshop

Youth – FRANK Gallery

Adults – Ackland Art Museum

2:30PM-4PM

Writing Workshop:

Advanced & Beginners Sessions

Advanced Session – Caribou Coffee Shop

Beginners Session – Street Scene Teen Center (179 E. Franklin Street)

4:15PM-5PM

Performance Workshop: Advanced & Beginners, R&R Grill

Advanced – R&R Grill

Beginners – Street Scene Teen Center

5PM-6PM

Dinner downtown

6PM-7PM

Open Mic

Wallace Plaza, on top of Wallace Parking Deck

7:30PM-9PM

March Youth Slam, Performance by the Fooligans

Wallace Plaza, on top of Wallace Parking Deck
Throughout the day, volunteers will have a table on the Peace & Justice Plaza (179 E. Franklin Street; Post Office/Courthouse) to guide you to festival workshops, and help you find great places to shop and eat downtown!
Questions/Comments:
Alyssa DeCaulp, coordinator for the Sacrificial Poets, 919-883-9380 or alyssadecaulp@gmail.com.